Under God The People Rule

---
Coyote State
Mount Rushmore State
Artesian State
Blizzard State TX
Sunshine State FL NM OR
Coyote State
Name: friends (Dakota)

Distinction: South Dakota is home to the largest mountain sculpture, the Crazy Horse Memorial.

Geographic Oddity: It is possible to stand in South Dakota facing due north and yet have Montana filling your forward range of vision. Do you know how?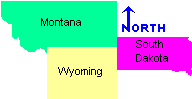 Famous Native: Sitting Bull ~ Dakota holy man

Notable Landmarks:
Natural = The Needles
Man-Made = Mount Rushmore
Favorite City Name: Potatoe Creek (which was not named by Dan Quayle)

Something you might hear a Pheasanteater say: "The Black Hills aren't black, they're green, and they aren't hills, they're mountains. But if you live in East River, you may not know that."
(The state is divided into East River and West River by the Missouri.)
Little Known Factoid: There's a place . . .
If I could live anywhere in South Dakota, it would be in Hill City, in the heart of the Black Hills.