in Moab, Utah:

CHINESE FOOD $1.75 A SCOOP

In a health food store window:

In some store somewhere:

COKE 49 CENTS. TWO FOR A DOLLAR.

Advertisement for an Austin restaurant that allows loitering:

COME IN AND TRY OUR BREAKFAST TACO AND LOAF.

Advertising sign in a dry area:

COLD DRINKS
SODAS 60¢
WATER 75¢

Painted on the back of a church bus in York, Nebraska:

COME WITH US!
LEARN ABOUT
//////////
EMERGENCY DOOR
//////////
//////////
J E S U S

Enticing sign for the variously thirsty in Plano, Texas:

COUNTRY CLUB BEVERAGE
BEER - WINE
PROPANE

On a church/school markee in Richardson, Texas:

CRAZY HAT DAY 16-17
Isn't that two days?

Another enticing sign, this one at Dunkin' Donuts:

CUP OF SOUP
10 ¢
WITH SAND

On an Alabama store owned by someone who doesn't understand punctuation:

We corrected the misspelling. We deeply regret the error:

At a Pilot gas station / convenience store:

In the restroom of an airport:

DO NOT FORGET YOUR LUGGAGE, JEWELRY, CLOTHING

On an office door somewhere:

DR. JONES,
VETERINARY MEDICINE AND TAXIDERMY.
EITHER WAY, YOU GET YOUR DOG BACK.

Billboard in Manchaca, Texas:

At a psychic hot line switchboard:

DON'T CALL US;
WE'LL CALL YOU.

At Mississippi State University, an institution of higher (?) learning:

By the road:

In the front yard of a funeral home:


DRIVE CAREFULLY. WE'LL WAIT.


At the Texas state line, apparently multiple choice:

DRIVE FRIENDLY
THE TEXAS WAY

At a restaurant for very fast eaters:

DRIVE-THRU
ALL-YOU-CAN-EAT
SPECIALS

On a low overhead at a bed-and-breakfast inn:

At the intersection:

On the business card of a Painting & Roofing specialist:

ELECTRICAL REPAIRS
- INCLUDING SWIMMING POOLS -

In a safari park:

ELEPHANTS
PLEASE STAY IN YOUR CAR

Along a lonely road:

EMERGENCY PHONE
174 KM AHEAD

Employee lawsuits resulting from electrocution due to faulty shop
equipment will be dismissed on the basis of insufficient grounds.

On the Plaza Theatre marquee:

- - - - - - - - - - - - -
ETERNITY STARTS AT 6 P.M.
- - - - - - - - - - - - -

By the road in Midland, Texas:
EXCEIIENCE IS NOT AN ACT
||
- - - - - - - - - -
||
Making me wonder how I will exit:
Outside a convention center:
FLEA MARKET 19 MAY.
DOG SHOW POSTPONED
In a conference center:
FOR ANYONE WHO HAS CHILDREN AND DOESN'T KNOW IT,
THERE IS A DAY CARE ON THE FIRST FLOOR
In a 7-Eleven store:
For Everyone's Safety
$5 LARGE PIZZA
(During the CORONAVIRUS pandemic . . .) At a motel pool whose manager relies on autocorrect:

In front of a graveyard:
In a hospital with a lot of "patience":
FOR YOUR SAFETY, YOUR BAR-CODED ARMBAND MUST
BE SCANNED BEFORE YOU TAKE YOUR MEDICINE.
—PATIENCE SAFETY
On a business in Arlington, Texas:
FORMERLY FINEST BEAUTY SALON
Temporary sign in a church yard:
FRED IS FINALLY LEAVING.
COME HELP US CELEBRATE.
|
- - - - - - - - - - - - - -
|
Billboard east of Albuquerque, New Mexico:

FREE BATHROOM TOURS

|
|
|
|
|
|
On a machine in the company cafeteria:
Uniquely named inn on I-35 in Oklahoma:
Above the food cases in a convenience store in Albuquerque:
Changeable-letter sign at a tire shop:
Homemade sign held by a protester:
At a pro shop:
GOLF BALLS
THE SIZE
OF HAIL
At the entrance to the Hibiscus Restaurant, Jakarta Hilton International:
G R I L L A N D R O A S T Y O U R C L I E N T S !
I saw a building with what I judged to be some sort of cool Asian architecture,
and I didn't know what it was. So I drove over to take a look.
The sign out front certainly cleared things up:
On a recently closed "LAMP SHADES" store after half the lights burned out:
On a fast-food restaurant in Frisco, Texas:
HAVE A SAFE SUMMER BREAKFAST COMBO MEAL
Hotel / convention center sign:
Where they are happy to serve in "whatever" capacity:
In front of a church building (where they no longer belong to Christ?):
HEBRON PARKWAY
CHURCH OF CHRIST
On the door of a plastic surgeon's office:
HELLO, CAN WE PICK YOUR NOSE?
On a trash can in Vietnam:
At the ENTRANCE of a grocery store:
At Indian Hills Community Center:
In a nonsmoking area:
IF WE SEE YOU SMOKING,
WE WILL ASSUME YOU
ARE ON FIRE AND TAKE
APPROPRIATE ACTION.
In a service garage:
IF WE CAN'T FIX YOUR BRAKES,
WE'LL MAKE YOUR HORN LOUDER.
On the cover of a leaflet:
IF YOU CANNOT READ, THIS LEAFLET WILL TELL YOU HOW TO GET LESSONS.
Made by someone who didn't recognize social media slang:
At a roadside diner in Sutton, Alaska:
IF YOU DON'T EAT HERE, WE'LL BOTH STARVE.
At an optometrist's office:
IF YOU DON'T SEE WHAT YOU'RE LOOKING FOR,
YOU'VE COME TO THE RIGHT PLACE.
Well-meaning sign posted at a business:
IF YOU THINK OUR EMPLOYEES ARE RUDE,
YOU SHOULD TALK TO OUR MANAGER.
On the door of a PA state store:
If you're under 21 and
you try to buy alcohol in
this store, we'll do worse
than tell your mother.
Don't worry about that silly old law:
In a public building:
IN CASE OF FIRE:
Please leave the building
before posting on social media.
Historical Marker:
IN THIS ROOM
ON APRIL 22, 1962,
A MARITAL ARGUMENT
WAS WON BY THE
MAN OF THE HOUSE.
Billboard advertising a truck stop:
INDOOR PLAYGROUND
TRUCKERS DISCOUNT
At a tire shop in Milwaukee:
INVITE US TO YOUR NEXT BLOWOUT
Handwritten on a car parked in a space designated FOR PREGNANT WOMEN ONLY:
Bumper sticker on a work vehicle:
K E E P W O R K I N G
MILLIONS ON WELFARE
DEPEND ON YOU!
On a dangerous curve:
Billboard in a field:

KEEP YOUR EYES ON THE ROAD

|
|
|
|
|
|
|
|
|
At a service station:
Grocery store in Richardson, Texas:
KIWI FRUIT
2 FOR 47¢ EACH
Begging the question,
do they seat incomplete parties,
or not?
On a volunteer fire dept.:
LAMBERT FIRE DISTRICT
SAME DAY FIRE SERVICE
In a laboratory lavatory:
On an electrician's truck:
LET US REMOVE YOUR SHORTS
In Lucas, Texas:
Encouragement for people who want to disappear completely:
LOSE 2-8 POUNDS
EVERY WEEK
We might not think this strange in a shoe store,
but a six-year-old girl laughed and said,
"Men don't wear dresses!"
Obviously she hadn't seen that one picture of Beto O'Rourke:
In an office building:
MICROBIOLOGY LAB -- STAPH ONLY
At a dance hall in Louisville, Kentucky:
MONARCHS LEGENDS
NOVTH24 DANCE
Identity Crisis near Centerhill Lake in Tennessee:
Changeable-letter sign at a service station:
MY BOSS TOLD ME TO CHANGE
THE STUPID SIGN SO I DID
Bumper sticker on a pickup truck in the Ozarks:
MY WIFE IS AN HONOR STUDENT
AT MARK TWAIN JUNIOR HIGH SCHOOL
On a Montana roadside:
Outside a muffler shop:
NO APPOINTMENT NECESSARY. WE WILL HEAR YOU COMING.
Roadside sign by someone who fails to see the importance of punctuation:
NO DUMPING VIOLATORS WILL BE PROSECUTED
At Kennedy Space Center, where not everything is rocket science:
At Victoria Station, London:
NO ENTRY EXCEPT FOR ACCESS
In Swansea, Wales:
(For translation of the Welsh portion, click HERE.)
At a park near our house;
where someone needed a closer look:
In a parking lot, or not:
NO PARKING IN PARKING LOT
On a front entrance:
NO PARKING INSIDE BUILDING
VIOLATORS WILL BE TOWED!!!
Street sign by someone who fails to see the importance of punctuation:
NO PARKING VIOLATORS WILL BE PROSECUTED
At our favorite Mexican restaurant in Dallas,
making me glad I'm ALL MAN:
Put beside the road by someone who thinks you have unlimited fuel:
On a fence in Old Town, Spring, Texas:
NO TRESPASSING AFTER 8 P M
Similar sign with unintentional implication:
NO TRESPASSING BEYOND THIS POINT
In a church parking lot:
NO TRESPASSING UNLESS AUTHORIZED
Placed by the Arizona DOT at the Petrified Forest NP exit:
NO TRUCKS - DELIVERIES EXPECTED
In the Corbett National Park, Uttar Pradesh, India:
NOTICE:
RAMGANGA RIVER IS INHABITED BY CROCODILES.
SWIMMING IS PROHIBITED.
SURVIVORS WILL BE PROSECUTED.
In a grocery store, in the produce department:
NOTICE! TAKE LETTUCE FROM TOP OF STACK, OR HEADS WILL ROLL!
On a truck belonging to—of all things—a SIGN company:
NOW HIRING QUALIFIED
TRUCK & SHOP PERSONNEL
APPLY AT OFFFICE
On a Burger King®
that believes in equal opportunity
(but not equal pay):
Beside a divided highway:
In front of a duplex on a busy street in Stratford-upon-Avon:
P A R K P R E T T I L Y P L E A S E
On a video game in an arcade:
PARENTAL ADVISORY WARNING
This Game Classified
Suitable For All Ages
At many fast-food restaurants:
PARKING FOR
DRIVE-THROUGH
CUSTOMERS ONLY
In a convenience store window:
PAY AS YOU GO
INTERNET ACCESS
PREPAY YOUR WAY ONLINE
Is it pay-as-you-go, or is it prepay?
How can you prepay on-line before you have internet access?

In an English cemetery:

PERSONS ARE PROHIBITED FROM PICKING FLOWERS
FROM ANY BUT THEIR OWN GRAVES

Where you have permission to yell really loud:

On the day-care door in a fitness center,
making me wonder where the kids are supposed to play:

Inside a bowling alley:

PLEASE BE QUIET. WE NEED TO HEAR A PIN DROP.

At a zoo:

PLEASE BE SAFE. DO NOT STAND, SIT, CLIMB OR LEAN
ON ZOO FENCES. IF YOU FALL, ANIMALS COULD EAT
YOU AND THAT MIGHT MAKE THEM SICK. THANK YOU.

On an office door in the T.P.D. warehouse:

PLEASE KEEP DOOR CLOSED.
OPEN DOOR SLOWLY.
THANK YOU.

On a front entrance:

- PLEASE -
NO SMOKING, FOOD, DRINK
OR GORILLAS

On a gas pump, department of redundancy department:

PLEASE PRE-PAY FIRST AFTER DARK

In the free weight area of a YMCA:

PLEASE PUT DUMBBELLS IN THEIR PROPER PLACE

In a bathroom stall:

PLEASE READ.
THESE ARE WATER SAVING TANKS
REQUIRED BY THE CITY.
PLEASE FLUSH OFTEN WHILE IN USE.
THANKS!

At a registration desk:

PLEASE SIGN IN, BUT PRINT

In the Hayden Planetarium, NYC:

PLEASE turn off your cell phones,
digital cameras, and small children

In a rural area in Georgia:

At a polo field, where apparently no games are ever played:

POSITIVELY NO HORSES
PEOPLE OR VEHICLES
ON THE POLO FIELDS
AT ANY TIME

On a wall:

Invitation for burglars to come after hours:

PROPERTY UNDER
SURVEILLANCE
DURING STORE HOURS

On a maternity room door:

Footpath warning:

QUICKSAND.
ANY PERSON PASSING THIS
POINT WILL BE DROWNED.
BY ORDER OF THE
DISTRICT COUNCIL.

Changeable-letter sign at a business:

At a fertilizer dealer in Whitesboro, Texas:

On a Safeway store in Louisville, Colorado:

On I-90 in Illinois:

REPORT DRIVERS
USING A CELL PHONE.
PLEASE CALL *99.

On many roads, implying I've been going an unsafe speed:

Lighted highway sign in Allen, Texas:

On a road apparently being worked on by a foreign construction crew:

On a building materials warehouse:

ROOFING WINDOWS
FLOORING DOORS
Roofing windows are called skylights,
but I'm unfamiliar with flooring doors.

Menu item featured in large letters on the exterior of a convenience store:

On some oceanside piers in Alaska:

SAFETY LADDER
USE AT YOUR OWN RISK

On a church building in Highland, Indiana:

ST JAMES THE LESS CATHOLIC CHURCH

At a retailer:

SALES PROS WANTEDNO EXPERIENCE NECESSARY

On a fence:
|
|
|
|
|
|
|
SALESMEN WELCOME.
DOG FOOD IS EXPENSIVE.
|
|
|
|
|
|
|
In a convenience store with a really, really good fridge:
SANDWICHES AND STUFF
F r e s h S i n c e 1 9 4 2
On a garbage truck:
SATISFACTION GUARANTEED
OR DOUBLE YOUR TRASH BACK
Instructions in I-forget-where:
SERVE ALL NON-ALCOHOLIC DRINKS TO CHILDREN IN PLASTIC CUPS
Pizza shop slogan:
SEVEN DAYS WITHOUT PIZZA MAKES ONE WEAK.
Common street sign, insensitive department:
On a street, I forget where:
On the roadside:
Written by the [apostrophically-challenged] boss on an unusable skid of boxes:
In an outdoor sports area:
SOCCER NOT
ALLOWED
SOCCER MAY ONLY
BE PLAYED IN
ARCHERY RANGE.
On an out-of-order piece of equipment in Bally's fitness center:
Painted on pavement:
Traffic sign advising exhibitionists to slow down:
SPEED LIMIT
20
WHEN FLASHING
Vandalized sign that is [apparently] in the imaginations of many drivers:
On a booth at the Kentucky State Fair:
Billboard near Louisville, Kentucky:
TATTOO CHARLIE'S
---
DONE WHILE YOU WAIT
|
|
|
|
|
|
Homemade sign made by a protester:
TEACH OUR CHILDREN
READING, WRITING,
ARITHETIC,
NOT GAMBLING
Interesting way to refer to all purchases:
10% off Purchases up to $20 and more
In a commercial district in Plano, Texas:
Tex-Mex Grill
SLEEP EXPERTS
Billboard appealing to cannibals:

THE COLONEL'S ALL YOU CAN EAT

|
|
|
|
|
|
|
On a fence post by a field:
THE FARMER ALLOWS WALKERS
TO CROSS THE FIELD FOR FREE,
BUT THE BULL CHARGES.
At Baylor University Stadium:
In a church yard:
THERE WILL BE NO CHRISTIAN ENDEAVOR THIS SUMMER
Billboard placed by a religious group:

THINKING ABOUT SUICIDE?
We can help!

Sign in New York City, possibly made by an ESL student:
THIS AREA UNDER SURVALLIANCE
Sign in John's Backyard Grill, a Dallas bussines:
THIS DOOR TO REMAIN
UNLOCKED DURING
BUSSINES HOURS
At the G. W. Bush museum, where you can smoke as long as it's not tobacco:
On a church door in England:
THIS IS THE GATE OF HEAVEN.
ENTER YE ALL BY THIS DOOR.
(THIS DOOR IS KEPT LOCKED BECAUSE OF THE DRAFT.
PLEASE USE SIDE ENTRANCE.)
In a podiatrist's office:
At Ocean Drive in Corpus Christi, Texas:
TO CROSS OCEAN
PUSH BUTTON
WAIT FOR WALK SIGNAL
In a British loo:
TOILET OUT OF ORDER
- - -
PLEASE USE FLOOR BELOW
On a trash can, of all places:
At a restaurant with an unusual:
TRY OUR
FRESH BAKED
CINNAMON
By the road in Omaha:
The four-for-a-penny special in Plano, Texas:
On a curb in Garland, Texas:
In a cleaner's window,
leaving me to wonder how much it costs to clean the WHOLE garment:
In a grocery store:
2 / $5
$2.50 each
Save $1.38 on 2
At a McDonald's restaurant now selling writing utensils(?):
In a store:
UNATTENDED CHILDREN
WILL BE GIVEN AN EXPRESSO
AND A FREE PUPPY
On an ice machine:
By the road in Kentucky:
On the back of an overturned truck:
WANTED: EXPERIENCED DRIVERS
In a restaurant window:
WANTED:
MAN TO WASH DISHES
AND TWO WAITRESSES
On the street near Greenleaf Landscaping in Sherman, Texas:
At an alley entrance in Dallas:
WATCH FOR CHILDREN
BACKING AUTOS
Traffic sign, duh department:
WATER ON ROAD WHEN RAINING
On a repair shop door:
WE CAN REPAIR ANYTHING.
(PLEASE KNOCK HARD ON THE DOOR ~
THE BELL DOESN'T WORK.)
At a towing company:
WE DON'T CHARGE AN ARM AND A LEG.
WE WANT YOUR TOWS.
Outside a secondhand shop:
WE EXCHANGE ANYTHING--BICYCLES, WASHING MACHINES, ETC.
WHY NOT BRING YOUR WIFE ALONG AND GET A WONDERFUL BARGAIN
On a restaurant markee:
WE HAVE CRAWFISH
NOW HIRING
THE BEST GUMBO IN TOWN
On the outside door of an International House Of Pancakes:
WE HAVE MENUS IN BRAILLE.
On a taxidermist's window:
On a plumbers truck:
WE REPAIR WHAT YOUR HUSBAND FIXED
Do they only have one mask? Is it for sale or is it free?
In a store in Saigon Mall:
At a gas station:
WE WILL NOT SELL GASOLINE
TO ANYONE IN GLASS CONTAINERS
In a hospital cafeteria:
WE WILL NOW BE SERVING
BREAKFAST SANDWICHES ALL DAY
6:00 am - 2:00 pm
On the BACK of a truck:
WE'RE BEHIND YOU ALL THE WAY
Where they are happy to serve in "whatever" capacity:
In a non-Inglish-spikking country:
WELCOM TURIST
WE SPIK INGLISH
I have no words:
In the Hartwell Y:
On a door in Spring, Texas:
WELCOME FRIENDS AND RELATIVES
-=- APPOINTMENTS ONLY -=-
At the Arkansas state line:
Bragging about the dependability of the local police
(or maybe not):
WHEN THE SECONDS COUNT, WE'RE THERE IN MINUTES.
Boastful sign on an Austin lot that didn't look that big to me:
On the road to the bakery (?):
On a restaurant door:
WOMEN ARE NOT SERVED HERE.
YOU HAVE TO BRING YOUR OWN.
Beside a restroom door:
In a conspicuous place in an office:
WOULD THE PERSON WHO TOOK
THE STEP LADDER YESTERDAY
PLEASE BRING IT BACK OR
FURTHER STEPS WILL BE TAKEN
At a crosswalk in Valdosta, Georgia:
In the Dallas County Assistant Clerk's office:
YOU MUST EXIT THE BUILDING
TO SMOKE AT LEAST 25 FEET
At the [un]welcome desk of the CCCC fitness center:
YOU MUST PRESENT I.D. TO USE FACILITY.
YOU WILL BE ASKED TO LEAVE!
Bumper sticker on an old VW bus:
Hours posted by someone who can't decide which system to use:
In a grocery store with really expensive turkeys:
---
On a drink machine, with someone's handwritten addition:

DIET COLA ISN'T WORKING
TRY EXERCISE AND A LOW-CARB DIET

Inside a Harding University girls' dorm, with someone's handwritten addition:

DO NOT EXIT! DOOR IS ALARMED!
THE WINDOW IS PRETTY CALM,
THOUGH.

In the T.P.D. warehouse breakroom, with someone's handwritten addition:

DO NOT THROW FOREIGN OBJECTS DOWN THE SINK
ONLY U.S. ONES

At an Exxon in Cedar Park, Texas, with someone's handwritten addition:

PRE-PAY BEFORE FUELING
POST-PAY AFTERWARD

On a college campus, with someone's handwritten addition:

SHOES ARE REQUIRED TO EAT IN THE CAFETERIA.
SOCKS CAN EAT ANYWHERE THEY WANT.
---
Two signs on the same post:

Two signs on the same post in Westfield, New Jersey:

Adjacent signs on a store:

GOING OUT OF BUSINESS
N O W H I R I N G

Consecutive signs on a frontage road:

LEFT LANE MUST
ENTER TOLLWAY
LEFT LANE CLOSED

Adjacent signs at the E.D.S. pool:

LIFEGUARD ON DUTY
POOL CLOSED

Signs publicizing sermon topics at adjacent church buildings in Georgia:

LOVE THY NEIGHBOR
WHEN YOUR MARRIAGE
IS IN TROUBLE

Two signs on the same post:

NO PARKING
HERE TO CORNER

Two signs on the same door at Collin College:

Two signs on the same post at an I-81 rest stop:

Two more signs on the same post:

STOP
FOR
PEDESTRIAN
IN
CROSSWALK

Two stickers on the same bumper:
| | |
| --- | --- |
| ONE WORLD, ONE PEOPLE | C E L E B R A T E D I V E R S I T Y |
Directions on the same end of one box:
OPEN OTHER END
THIS END UP
Adjacent signs in a restaurant:
RESTROOMS >>>
PLEASE WAIT TO BE SEATED
Adjacent signs in a convenience store near Hurricane, Utah:
R E S T R O O M S
SEATING CAPACITY 36
Adjacent signs in the foyer of a commercial building:
| | |
| --- | --- |
| ROBERTSON'S SOUND STUDIO | EAR PIERCING |
Two signs on the same post:
Adjacent signs on the Black Bear Inn, Red River, New Mexico:
Two signs on the outside of the same door of a store in Richardson, Texas:
WELCOME TO ROSS.
E X I T O N L Y
---
A cousin of mine made a sign at the location of a family reunion. It read:

When some of us chided her about the misspelling, she changed it:
---
Click on this street sign to see its context.
Click on this EXIT sign to check out some signage spotted by my sister-in-law.
---
Parting shot:

The following map is of course, fictitious, but my sister really did see a locator sign with a map labeled
"YOUR HEAR."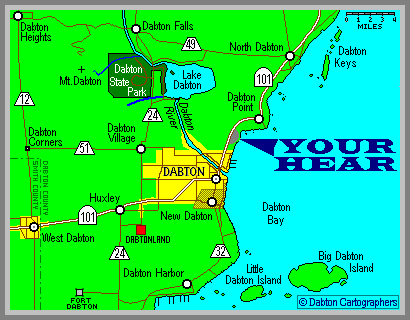 ---
Okay, time to stop. I mean, time to go.