Forward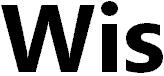 ---
Badger State
America's Dairyland
Name: grassy place (Chippewa)
Distinction: Wisconsin has the prettiest capitol building I've seen.
Geographic Oddity: Half of Wisconsin's famous Door Peninsula is actually an island! (Not to be confused with New York's Coney Island, which is a peninsula.)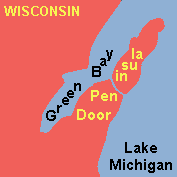 Famous Native: Georgia O'Keeffe ~ synthesizer of artistic abstraction and representation

Notable Landmarks:
Natural = Wisconsin Dells
Man-Made = Lambeau Field
Favorite City Name: Ubet

Something you might hear a Cheesehead say: "And so?"
(For those of you south of the Mason-Dixon Line, this translates to "Ain't that right?")
Little Known Factoid: When football season is over . . .
If I could live anywhere in Wisconsin, it would be at Wisconsin Rapids on the Wisconsin River.