USA Decor
Here is the continental US (48 states plus DC) depicted using state "icons." Even if you can't identify all these states by shape and location, you may spot a few more by recognizing the icons.

The image you see now "has been modified to fit your screen." Click on image for a full-size version. (Not the actual size of the country, just the size I drew it!) A new window will open up. When it is full-size, you can scroll around to see the detail. Below is a list of the states with the nicknames and descriptions that relate to the icons used.

At the bottom is a link to the key.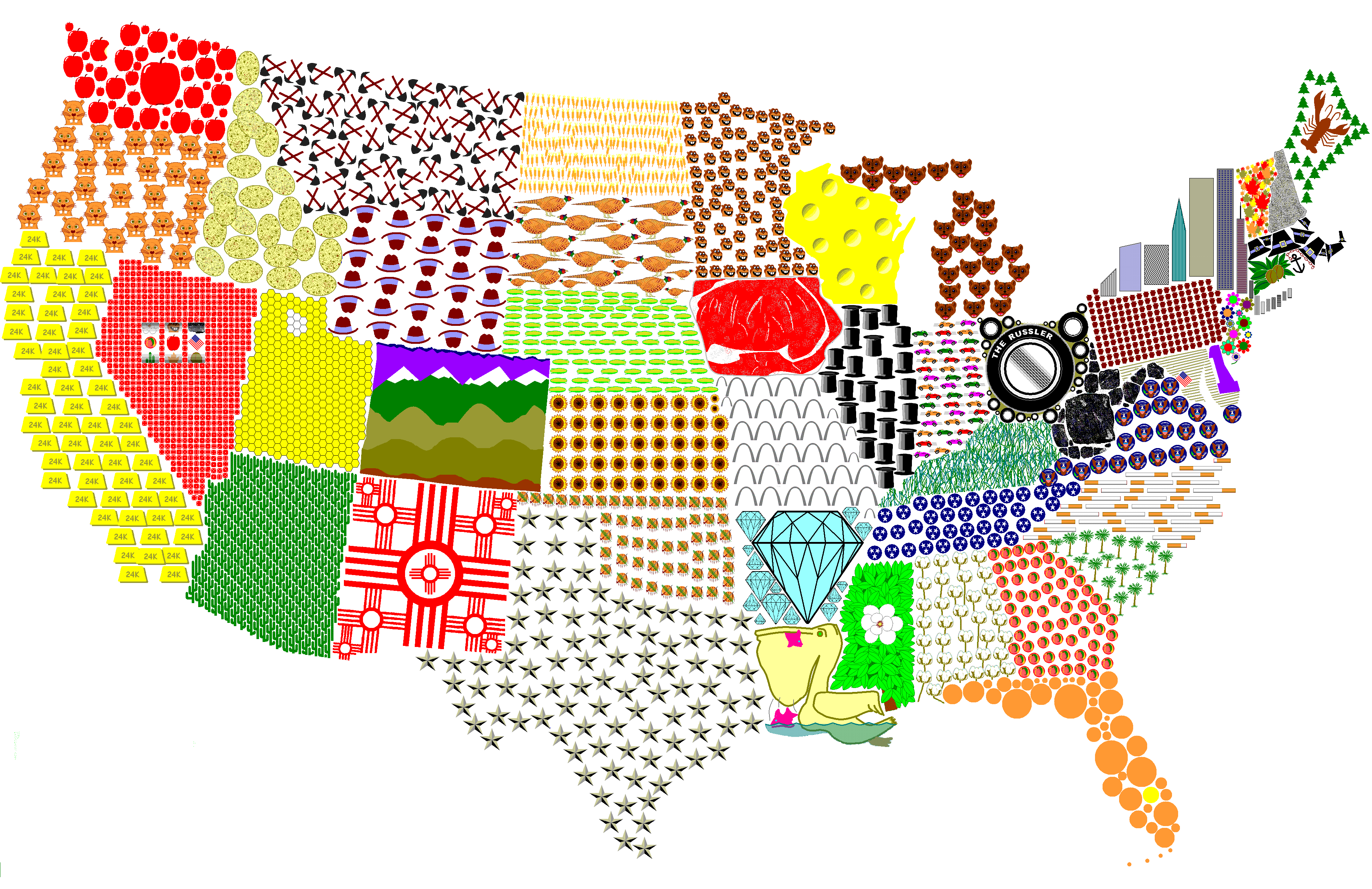 ALABAMA
The Cotton State
ARIZONA
Home Of The Saguaro
ARKANSAS
The Diamond State
CALIFORNIA
The Golden State
COLORADO
The Rocky Mountain State
CONNECTICUT
The Nutmeg State
DELAWARE
The First State
DISTRICT OF COLUMBIA
The Nation's Capital
FLORIDA
The Orange State, a.k.a. The Sunshine State
GEORGIA
The Peach State
IDAHO
Home Of Famous Potatoes
ILLINOIS
The Land Of Lincoln
INDIANA
The Crossroads of America
IOWA
Famous For Beef
KANSAS
The Sunflower State
KENTUCKY
The Bluegrass State
LOUISIANA
The Pelican State
MAINE
The Pine Tree State, Famous For Lobsters
MARYLAND
The Old Line State
MASSACHUSETTS
The Pilgrims' Landing Site
MICHIGAN
The Wolverine State
MINNESOTA
The Gopher State
MISSISSIPPI
The Magnolia State
MISSOURI
Home Of The Gateway To The West
MONTANA
The Treasure State
NEBRASKA
The Cornhusker State
NEVADA
Famous For Gambling
NEW HAMPSHIRE
The Granite State
NEW JERSEY
The Garden State
NEW MEXICO
Represented By The Zia Sun
NEW YORK
The Empire State
NORTH CAROLINA
Leading Producer Of Tobacco
NORTH DAKOTA
Famous For Wheat
OHIO
Leading Producer Of Rubber
OKLAHOMA
Represented By The Indian Shield
OREGON
The Beaver State
PENNSYLVANIA
The Keystone State
RHODE ISLAND
The Ocean State
SOUTH CAROLINA
The Palmetto State
SOUTH DAKOTA
Pheasant Country
TENNESSEE
Represented By The Tri-Star
TEXAS
The Lone Star State
UTAH
The Beehive State
VERMONT
Home Of The Sugar Maples
VIRGINIA
Mother Of Presidents
WASHINGTON
Famous For Apples
WEST VIRGINIA
Famous For Coal
WISCONSIN
America's Dairyland
WYOMING
The Cowboy State