Salus Populi Suprema Lex Esto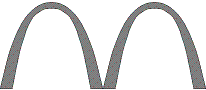 ---
Show-Me State
Cave State
Iron Mountain State
Ozark State
Lead State
Gateway To The West
Name: town of the large canoes (Missourian)

Distinction: Missouri is the least populous state that has more than one NFL team.

Geographic Oddity: The Kansas City that's in Missouri is more than three times as large as the one that's in Kansas.

Famous Native: Mark Twain ~ novelist & humorist


Notable Landmarks:
Natural = Lake Of The Ozarks
Man-Made = Gateway Arch

Favorite City Name: Ink


Something you might hear a Bushwacker say: "Well, I'm from Missour-uh, so you'll have to show me."


Little Known Factoid: Due to earwitness accounts . . .

If I could live anywhere in Missouri, it would be in the Ozarks by Ironton, at Taum Sauk Mountain, the highest point in the state.