Union, Justice, And Confidence
Etat De Louisiane
Léta de la Lwizyàn


---
Pelican State
Sugar State
Creole State
Child Of The Mississippi
Bayou State MS
Name: for King Louis XIV of France (FYI, the French pronounce that name "LWEE," not "LEW-iss," so go ahead and call the state "LWEE-zee-ann-uh," not "LEW-zee-ann-uh.")

Distinction: Louisiana experienced the greatest reduction in size from original territory to final state.

Geographic Oddity: The Mississippi River Delta.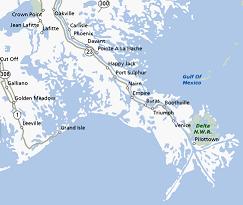 Famous Native: Al Hirt ~ trumpeter & bandleader

Notable Landmarks:
Natural = Lake Pontchartrain
Man-Made = Louisiana State Capitol
Favorite City Name: Bee Bayou (as in "I wanna bee bayou for the rest of my life.")

Something you might hear a Bayou Banger say: "Laissez les bon temps roulez!"
(In case you don't speak Acadian, that's, "Let the good times roll!")
Little Known Factoid: Not all of Louisiana . . .
If I had to live in Louisiana, it would be in the Vieux Carre of New Orleans, where my jazz combo would play music from my balcony, and the people on the street below would look up and say, "Hey, can you guys keep it down, for crying out loud?!".