The Gospel According To . . .
DIRECTIONS:
Mark Farner, Kerry Livgren, Little Anthony, Marilyn McCoo, Barry McGuire, Maria Muldaur, Gary Paxton, and Dan Peek all moved on to gospel music after achieving success as pop musicians.
Determine which of these eight performers matches each description below and write their names in the grid. Leave no spaces between words, but leave beginning spaces so that the final letters of the names line up.
If your answers are the gospel truth, the eleventh column reading down will complete the quotation at the bottom.
EXAMPLE:
---
member of Fifth Dimension and host of "Solid Gold"
guitarist, keyboardist, and lyricist for Kansas
original member of America before it became a duo
former member of Jim Kweskin's Jug Band who sang "Midnight At The Oasis"
solo artist who recorded "Alley Oop" and then labelled it as by The Hollywood Argyles
veteran of New Christy Minstrels who warned about "The Eve Of Destruction"
lead singer of the Imperials whose real last name is Gourdine
guitarist for Terry Knight & The Pack and for Grand Funk Railroad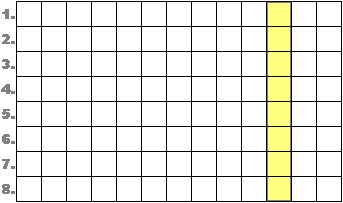 "Go into all the world and preach the gospel to all ________."
--Mark 16:15, NASB
---