SPIRIT OF 76 / AIR FORCE ONE / CAROLINE
names for the US presidential airplane
During the Clinton administration, it was called "The Flying Burrito."
It was called "Caroline" during the Kennedy administration. (Apparently the name "Marilyn" was already taken. OHH, I can't believe I said that.)
At the time of the Bicentennial, (1976, for those of you in Sunnyvale,) it had "Spirit Of 76" painted on the nose.
"Air Force One" is the name that has survived the test of time.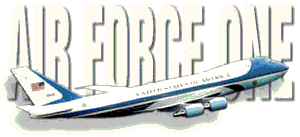 Lien À Trois