Equal Rights

---
Cowboy State
Equality State
Big Wyoming
Sagebrush State NV
Name: large prairie place (Algonquian)

Distinction: Wyoming has the largest concentration of geysers in the world.

Geographic Oddity: In Wyoming, there is a place where the Great Divide divides. There is an area where there is no outlet to either ocean.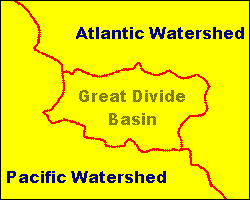 Famous Native: Curt Gowdy ~ sportscaster and state park eponym

Notable Landmarks:
Natural = Devils Tower
Man-Made = Old Faithful Inn
Favorite City Name: Ten Sleep

Something you might hear a Sagebrusher say: "It doesn't take long to examine a hot horseshoe."

Little Known Factoid: Wyoming is home to . . .
If I could live anywhere in Wyoming, it would be on a ranch in that space between Yellowstone and Grand Teton.