My Mythical Parks
Every state west of the "central stack" (North Dakota down to Texas) has at least a part of a national park in it. However, Idaho only has that one little corner of Yellowstone, and almost nobody goes there. To rectify that, when I run the NPS and the congress, I will create:
Craters Of The Moon National Park
Idaho
This is currently a national monument between Arco and Carey.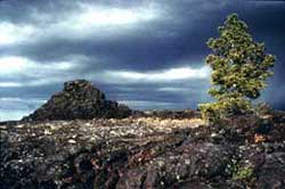 lava field
---
Now as to the central stack itself, half those states already contain national parks (North Dakota, South Dakota, and Texas). So I just need one for each of the other three:
Prairie Landmarks National Park
Nebraska
This would follow the Oregon trail westward approximately forty miles, from Courthouse and Jail Rocks, through Chimney Rock, to Scotts Bluff.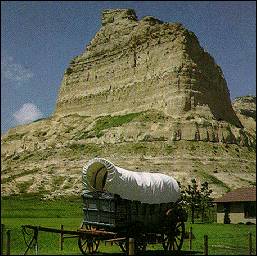 Scotts Bluff
Chalk Monoliths National Park
Kansas
This would take in southern Gove county along the Smoky Hill River from the Monument Rocks to Castle Rock.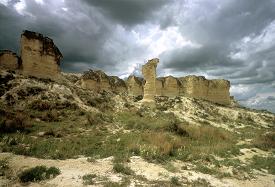 chalk bluffs
Arbuckle National Park
Oklahoma
This would comprise the area around Turner Falls and Honey Creek Pass between Davis and Ardmore.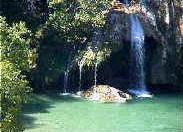 Turner Falls
---
Now for the rest of the states that don't already have national parks, here are my offerings:
Alabama
Russell Cave National Park
Connecticut
Haystack Mountain National Park
Delaware
Delaware River National Park
Bombay Hook, Cedar Swamp, Prime Hook
Georgia
Brasstown Bald National Park
Illinois
River Junction National Park
Cave In Rock, Fort Defiance
Iowa
Spirit Lake National Park
Louisiana
Mississippi Delta National Park
Maryland
Big Bite National Park (Md./W.Va)
Backbone Mountain, Blackwater Falls, Canaan Valley, Smoke Hole Cavern
Massachusetts
Cape Cod National Park
Mississippi
Natchez Trace National Park
Little Mountain
New Hampshire
Winnipesaukee National Park
Lake Winnipesaukee, White Mountains
New Jersey
Water Gap National Park
Delaware River, Kittatinny Mountain
New York
Adirondack National Park
High Falls Gorge, Lake Placid, Moose Mountain, Whiteface Mountain
Pennsylvania
Pocono National Park
Rhode Island
Atlantic National Park
Block Island, Point Judith
Vermont
Green Mountain National Park
Moss Glen Falls, Texas Falls
Wisconsin
Wisconsin Rapids National Park
Cranberry Highway, Rudolph Grotto
---
See the "Map of the Parks"!
See the "Ode to the Parks"!
See the "Plan For Visiting"!
See the "Quiz on the Parks"!