a.k.a.
All The News That's Fit To Misprint

"Journalism consists largely in saying 'Mollow Jones died' to people who never knew Mollow Jones was alive."
--G.K. Chesterton
---
A brain scan has revealed that Andrew Caddick is not suffering from a stress fracture of the shin.
--Jo Sheldon
A Mesquite policeman shot a man with a knife.
--radio newscaster
[A certain man] died earlier today in his Athens home. He was seventy degrees.
--television newscaster
After his speech, the governor, accompanied by six children, his entourage and dozens of reporters, climbed out of his pool to pace along his chain-link fence, occasionally standing on his hind legs and tilting his head back.
--Los Angeles Times
All bus service has been stopped nationwide and in Dallas.
--newscaster in Dallas (that foreign city)
And for the rest of Europe this weekend, a lot of cloud around in the form of cloud . . .
--Suzanne Charlton
And the nation's second largest airline is in the same boat.
--Gloria Campos
And up next . . . we'll be right back.
--Dallas TV newscaster
Apparently the hostage taker has spent most of his life in and out of jail.
--Spartanburg newscaster (Is there a third possible location for the other part of his life?)
As we break away from our continuous coverage . . .
--Alexa Conomos
As we look off to the west, we see the sun coming up. . . .
--Dallas TV weather girl
Ashley Jean O'Rear died Nov. 24, 2001, in Waxahachie, Texas, after battling cancer since 1977. She was born April 27, 1987, in Corpus Christi, Texas.
--Christian Chronicle
At next Wednesday's children's party it is expected that in two hours 300 children will consume 1,800 sandwiches and 900 fancy cakes, gallons of milk and tea, pounds of butter and a fishfryer, a plumber, a schoolmaster and a railway inspector.
--Yorkshire Gazette
Belgrade is now in darkness for as far as the eye can see.
--Brent Sadler
Buyers must meet . . . qualifications to qualify.
--WBAP Radio
Chiu Mei Au Yeung, who works for VNU's Computer Business Week, was particularly thrilled as the holiday will give her an opportunity to sell her Hong-Kong-based family, whom she has not seen for many years.
--Magazine Week

Corection
--heading in Yellville, Arkansas, Mountain Echo
Each year in the United States, the flu kills about 20,000 people--mostly people over 65, people with high-risk conditions such as chronic lung or heart disease and children with asthma.
--EDS bulletin
Evolutionists have used evidence of tool usage among "missing links" to demonstrate the ascent of man. Gavin Hunt, in research for Massey University (New Zealand), has observed tool usage among crows equivalent to that of "Stone Age Humans."
--print news (I say "oops" for the evolutionists!)
Four people and Congressman Ryan were killed.
--TV newscaster
General Graham, who likes to eat as well as any man, would like to see a bit more cor bread ad mustrad brees served to the President at the "wite White House" at this aval submari statio. "Don't get me wrong," he cautioned.
--World Telegram and Sun
Happy Fathers' Day to all those fathers' days out there.
--field reporter at CNN
He is the youngest person in the county due to COVID-19.
--NBCDFW
He was shot and fatally killed.
--Shon Gables at WFAA
Health department says death certificates are to be ordered one week in advance of death.
--Lancaster (Ohio) Eagle-Gazette
Here is an evening prayer for the little ones, and to me it is very sweet and solemn:


Savior, tender Shepherd, hear me,

Bless thy little lamb tonight.

In the darkness be Thou near me,

Keep me safe till morning light.

To remove rust from window glass,

Dip cloth in coal oil and rub hard.

--Kansas City Star
Here's what's happening right now: Back in 1990, . . .
--MSNBC
Hours earlier, a 13-year-old boy was shot on the south side.
--Bryan Smith
In a sense, Deng Xiaoping's death was inevitable, wasn't it?
--Jon Snow
It has been one of the warmest 1994s this century.
--Richard Allinson
It's a fine scene, denoting "Eat, drink, and be merry, tomorrow we Eat, drink, and be merry for tomorrow we lose its spontaneous significance."
--a Liverpool newspaper
It's going to be a soaking hot day.
--TV weatherman
Kelly Gordon 43, descended into heaven on February 18, 2005 . . .
--Dallas Morning News obituary
Last night an explosion blew a hole in the wall of the 42nd precinct station. Police are looking into it.
--print news (I think this one's an urban legend.)
Llanfairpwllawyngyllgogerychwyrndrobwllllantysiliogogogoch Station in Wales was misspelled in an Associated Press caption with a photograph that appeared yesterday. The Union Tribune regrets the error.
--Union Tribune
Mr. Firestone argued that his client was a student, had not been found guilty, and should not be subhauled by tank steamer to the east coast and then pumped back into the middle-west and the Great Lakes area through pipe-lines.
--Cleveland Press
Mrs. Lea made no mention of the nationality of the kidnappers nor gave details of her husband's discovery, but he was apparently kept in a darkened hut for two days. He had been roughed up and beaten by insects, the police said.
--Evening News

Percentage of marriages that end in death or divorce: 100.
--VH-1 Pop-Up Video
Practice thinning in winter time and head back in summer. A tree can be kept bearing practically regular crops. Of course it is impossible to keep any tree bearing practically regular crops, but of course it is impossible to keep any tree bearing practically regular crops, but of course it is impossible to keep any tree bearing a full crop regularly. Wonders can be done by this system of pruning.
--tree nursery pamphlet
Pweople in glass howses shrdlu throw etaion(s).
--New York Times Herald
Q: How may slightly soiled playing cards be cleaned?
A: They are made by stringing pieces of meat, quarters of onions, and two-inch pieces of bacon on sticks and broiling them over coals.
--American Homemaker Magazine
Q: What constitutes a millionaire?
A: A millionaire is someone who has $1 million, according to Jerry Beto, branch manager and senior vice president of investments at AG Edwards and Sons.
--newspaper feature
Q: What does the thread count printed on the label of bed sheets and pillow cases indicate?
A: The massacre of Fort Mackinac in 1763 by Chief Pontiac of the Ottawas.
--Columbus Citizen
So did you see which train crashed into which train first?
--BBC interviewer
Stairs are useful in two-story houses.
--Washington Post
The biggest threat will be to eastern Canada as well as Nova Scotia.
--meteorologist Ron Jackson
The bye week has came and went for No. 1 Alabama.
--Tuscaloosa News
The Church Of England has decided that Hell is "just ultimate non-being," because the traditional view left people with "psychological scars."
--print news (How nice of them to fix that for us!)
The event is a race for crawlers and new walkers ages 6 months - 18 months old. This event is open to employees only.
--bulletin from a company that apparently hires very young workers
The man who caused the accident has turned himself into police.
--Channel 5 newscaster
The mother killed herself and then the child.
--TV newscaster
. . . the son of a clerk in the French government service who died shortly after his birth.
--ThinkQuest (died shortly after being born yet somehow managed to have a child)
The Southeastern Georgia Alzheimers Chapter presents a dinner cabaret, "A Night To Remember."
--The SGAC
The tickets to the free concert have been sold out.
--radio announcer
The two of them acted alone.
--TV newscaster
There's nothing wrong with pregnancy. Half the people wouldn't be here today if it wasn't for women being pregnant.
--Sarah Kennedy
They had a delusion of rain . . .
--reporter on the Weather Channel
They tried to force a man who was inside out.
--KRLD radio newscaster
This is the boot that I had on my right hand foot.
--Georgia man who was struck by lightning
Today's names in the news and how to pronounce them:
Syngman Rhee, President of Korea; pronounced Sungmahn Ree
Jacques Fath, French fashion designer; pronounced Ellsa Skee-ah-pah-rell-ee.
--Miami Daily News
Trent Lott, the president's sister, is going to be on the program tonight.
--Sean Hannity
Tuesday Night At The Movies will be seen on Saturday this week instead of Monday.
--TV announcer
What we know is that there will be no decision until some of these races are decided.
--Dan Rather
We believe management has identified roughly 5,000 to 5,200 additional headcount reductions, above our original forecast of 4,8000 by the end of the first quarter . . .
--a correction published by Reuters, [mis]quoting Andrew Burns of EDS
We don't know what triggered it.
--Barnes County North Dakota sheriff Randy McClaflin, after Lucas Strutz shot himself in the head.
And then there was the New Hampshire newspaper that misspelled its own name on its front page: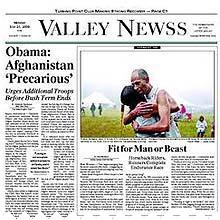 ---