Palindromes
words and expressions spelled the same forward and backward
(not counting spaces and punctuation)
I know there are long lists already available. I'm only planning to include those I write (or observe) on my own, as well as a select few that impress me.
---
For example - - -
One of the most famous celebrates the "other" T. R. like this:

A man, a plan, a canal: Panama.

When the Canadians tried to follow suit, it didn't quite work:

A Dan, a canister, a retsina: Canada.

If the first man had spoken English, he may have introduced himself to Eve like this:

Madam, I'm Adam.

But if he had spoken Spanish, he might have called her "nothing":

Nada, yo soy Adán.
---
Some I've been working on - - -
A day, a daytime yammer: a harem may emit, "Yada, yada . . ." 1
Ah . . . ahem! It is Pepsi time! Ha! Ha!
Arts, eh? Crooner & Reno orchestra.
Bob: Aloha, Mama! Mama: ¡Hola, Bob! 2
detail, if fan affiliated
Diary raid!
Did I face decaf? I did!
Dis rat trap's part tar, Sid!
Don't nod.
Doth Guantanamo woman, at naught, O.D.?
Emma, I am me.
Emo Hall in a vanilla home
Ever often, I back cabinet for Eve.
Evita, not a Mato native 3
gigolo's solo gig
Go hot! A top potato hog!
God?? Deified dog! 4
Hand no maid's diamond? Nah!
Ha! No Jonah!
He lives evil, eh?
He stressed desserts, eh?
Hot car act? Oh!
Keep dry, Byrd! --Peek
Kert's plan: an Alps trek
Knits never even stink.
Is it I? It is I!
Laminate poor Roo (pet animal). 5
Lears in Israel
Live bomb! Mob evil?
lonely Tylenol
Look! A Toyota race car! A Toyota? Kool!
Marge let rat see Star-Telegram. 6
Mike Modano's on a dome, Kim! 7
Name 'er Fifi Freeman.
Navy reviled a delivery van.
Nemo: Wow! Two women! 8
Niagara End Near, Again
No, I target nisus integration. 9
No, it is opposition.
No lava, not on Avalon.
No lemons, no melon.
No melons, no lemon.
No sir, Pete. Prison.
No smash, Samson. 10
Not so, Boston!
No, Son. I talk Latino, Son.
O Garb Media, look! Ta da! Boston, not so bad at Kool-aid embargo! 11
Oh no! Don Ho!
on a limb: Milano
One car. Yale revive relay race? No.
Oo, hay! Yahoo!
Panda here had nap.
Rats! No OnStar!
reliable Mel Bailer
reliant nailer
Repel a leper
Sad. No Hondas.
Seiko, for a car of Okies.
Slang is signals.
snack cans
some data demos
Step on no pets.
sung forever of gnus
test set
Tifton's not fit.
top drawer as a reward pot 12
Too hot to hoot!
Tram law at a Wal-Mart?
Tundra has it; it is a hard nut.
"We have smart rams." --Eva Hew
fictitious business card:


Turot Corp.
Dr. Toni Malone
717 Enola-Minot Rd.
Proctor, UT

1A yammer is a whimper.
2This is a conversation between my parents, who like Hawaii and who speak Spanish.
3Mato is in Brasil.
4Behold, the Egyptian deity Anubis: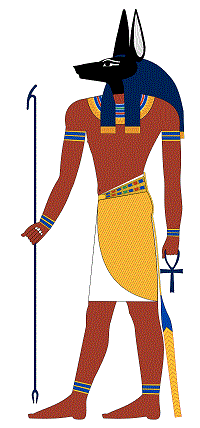 5Roo is one of Winnie The Pooh's playmates.
6The Star-Telegram is a Fort Worth newspaper.
7Mike Modano is on the Dallas Stars hockey team.
8The good captain was not used to being around the fairer sex.
9A nisus is an effort.
10When we play tennis, he has to lighten up because he's so strong.
11I have no idea what that means!
12A former manager of mine kept gifts in his top drawer to give to employees as bonuses.

---
Some constructed by others - - -
Able was I ere I saw Elba.
Are we not drawn onward, we few, drawn onward to new era?
Doc, note: I dissent. A fast never prevents a fatness. I diet on cod.
Flee to me, remote elf!
Was it a car or a cat I saw?
---
Possibily the coolest palindrome ever is:
SATOR AREPO TENET OPERA ROTAS.
This is [probably badly formed] Latin meaning something like:
"Arepo the sower holds the wheels at work."
It's cool because it consists of five five-letter words,
and it reads the same horizontally or vertically: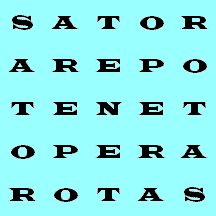 ---
Here's another one I really like. Someone must have started like this . . .

Dennis sinned.

. . . and then continued with . . .

Dennis and Edna sinned.

. . . and then . . .

Dennis, Nell, Edna and Ellen sinned.
Dennis, Nell, Edna, Leon, Noel and Ellen sinned.
etc. . . .

Finally ending up with this monstrosity . . .

Dennis, Nell, Edna, Leon, Nedra, Anita, Rolf, Nora, Alice, Carol, Leo, Jane, Reed, Dena, Dale, Basil, Rae, Penny, Lana, Dave, Denny, Lena, Ida, Bernadette, Ben, Ray, Lila, Nina, Jo, Ira, Mara, Sara, Mario, Jan, Ina, Lily, Arne, Bette, Dan, Reba, Diane, Lynn, Ed, Eva, Dana, Lynne, Pearl, Isabel, Ada, Ned, Dee, Rena, Joel, Lora, Cecil, Aaron, Flora, Tina, Arden, Noel and Ellen sinned.
---